Cross Cultural Music, Song & Dance on the banks of the Bann.
Téada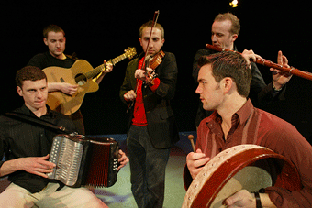 Téada, now firmly established as one of Irish music's leading exponents on the international world music stage, continues to be driven by a fascination with the timeless, expressive force of traditional tunes inherited from previous generations of musicians.

Since 2001, when the freshly-formed band landed a spot on the innovative Irish television show Flosc, Téada, has evolved to frequent headline performances at major music festivals throughout the US, Canada, Europe, Israel and Australia. A notable highlight was a headlining appearance to a 30,000-audience in Brittany during 2006, a year which also saw the band launch a hugely successful CD/DVD ŒInné Amárach¹, released by Gael Linn and Compass Records.

With lush Irish orchestration, Téada, meaning "strings" in the Irish language revels in the vibrant traditional music of Ireland, deftly playing up its structural intricacies while preserving the timeless energy of the reels, jigs, hornpipes, and other lesser-known tunes in the repertoire.
---
---